By Todd Barron @ FoodieCuisine.com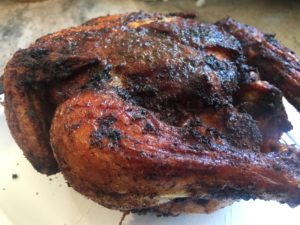 No, it is not a gimmick.  You can actually "fry" food using up to 75% less fat with amazing results.  How is this possible?  You cook with u2ltra-high convection and do not immerse the food in the actual fat.  This is made possible by Air Fryers.  At first I was skeptical, but after buying one and giving it several tries, I am a convert.
So how does it work?  As mentioned, you coat the food you wish to cook with the appropriate oil (butter, olive oil, vegetable oil, etc), place it in the basket, close the unit, set the time and temp, and let it do it's thing.  When cooking, the air fryer circulates very hot air around the food in a vortex of sorts.  The result is cooked and crispy food without the heavy grease associated with deep fat frying.
I tested it by cooking a fryer chicken because I wanted that rotisserie chicken flavor but at home.  For $7.99 I was able to buy a whole fryer chicken at Whole Foods and made the entire dish for less than $9.  This is at least $4 cheaper than buying a cooked one at the grocery store and was super moist.
Ingredients:
1x Whole Fryer Chicken
Spice blend
Butter
Process:
Let the chicken come to room temperature.  Combine the butter and half of the spice blend until you have a fairly loose paste.  Rub it over the entire chicken until throughly coated.  Sprinkle the remaining spice blend over the entire chicken.  For my spice blend I used Herbs from Provence, Cumin, Ground Cinnamon, Chipotle, Paprika, Salt, and Pepper.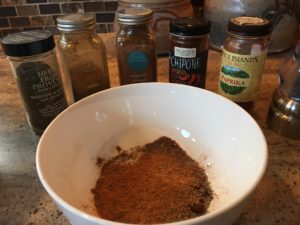 Place the chicken, breast side down, in the air fryer basket (it will be a tight fit.)  Turn it to 360F and cook it breast-side down for 30 minutes.  Flip the chicken over, place it back in the basket, and cook at 360F for another 30 minutes.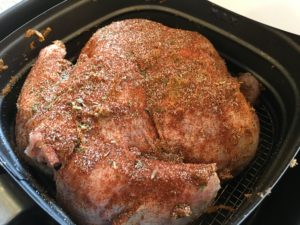 Since I live at a high altitude, it took me slightly longer to cook the chicken.  The goal is to reach 165F at an internal temp of the thickest part of the chicken.  You may have to cook it more or less to reach this temperature depending on where you are.  The nice thing about the air fryer is that you can push the pause button and check the temperature.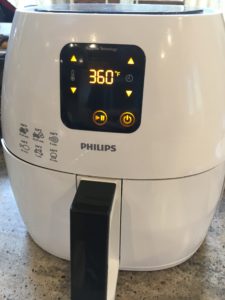 Once the chicken is done, let it sit in the fryer for 15 minutes to cool down so that you can remove it for pulling.  Remove and pull the meat from the chicken.  Personally, I made quesadillas with the roasted chicken and they were amazing!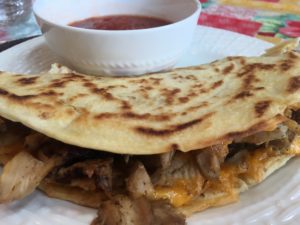 I toasted quesadillas on the stove, pulled apart the roasted chicken, and then folded some fresh grated cheese into the quesadillas before heating completely in a pan.  Muy Bueno!