By Todd Barron @ FoodieCuisine.com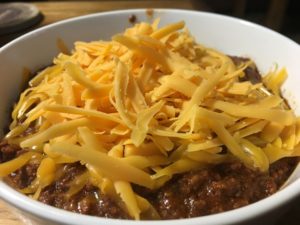 I know, I know…. The Best Chili on the Planet may be an exaggeration as everyone has their own personal favorite.  BUT…. Cincinnati Chili is one of those recipes you have to try to really understand how unique and completely awesome it is.
Not only does it not have beans or the typical things you think of when it comes to chili, but you serve it on spaghetti (what???) with cheese and onions.  The result looks more like an Italian dish but it tastes every bit like a dish from Mexico given the ingredients of cinnamon, chocolate, and other awesome flavors in the curry known as mole from south of the border.
You can spend hours grinding the spices and mixing the ingredients, or, you can do like I do and buy pre-made chili mix from Skyline Chili via Amazon (link below.)  When I make a batch I always use two spice mix pouches, two pounds of ground beef (or turkey,) two inches of water over the ground meat, and an 8oz can of tomato paste.
Cook it down over 3-4 hours, breaking up the meat and stirring every 20 minutes to keep it from burning, and then serve over your favorite noodles with a HUGE amount of cheddar cheese and fresh diced white onions.  I promise, you will not be sorry!  I have won more than one chili competition with this simple dish and it always amazes those who are not used to it.