By Todd Barron @ Foodiecuisine.com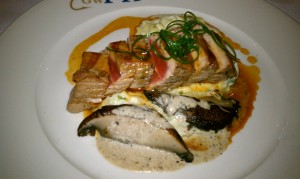 My wife and I had an enjoyable dinner at GW Fins in New Orleans while visiting the city on Spring Break.  We did not have advance reservations but were able to book at able within an hour using Open Table.
The restaurant is open and large with plenty of seating.  It is very close to Bourbon Street but is not run down like many of the restaurants in the area.  I was pleasantly surprised with the quality of the food and service given the typical fare you find in the area.
I ordered the ahi tuna special, which consisted of seared tuna atop a beef sauce, sided with mushrooms.  The tuna was flavorful but a little of the fatty side as it was hard to chew in places.
Overall we enjoyed the dinner and really enjoyed the service.