By Todd Barron @ FoodieCuisine.com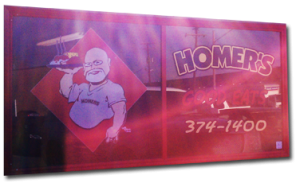 Homer's has been in Little Rock for a while now and is a place my family visits often for lunch.  They don't serve the type of food I eat normally ("simple" home southern cooking style that is high in calories,) but I tagged along with some family and friends the other day for lunch. 
If you haven't been there, it is a small place located near the Little Rock Airport and has a very packed lunch crowd during the week.  It's very casual and serves typical plate lunch fare like hamburgers, hot-dogs, chicken, fried fish, etc.  Most dishes come with your choice of vegetables (corn, peas, etc.) and a choice of rolls or cornbread.
On the day I went it was much like I had experienced in the past with a large crowd of people and a simple menu to pick from.  Given it was a Tuesday, I had looked for something relatively low-calorie and settled on the special of the day which was Baked Chicken ($6.99).  For my two vegetables I ordered corn and purple hull peas and for my choice of bread, ordered the dinner roll.
The waitress was very nice and attentive even with the large crowd and our food came out quickly.  The Baked Chicken was described as being marinated in a low-fat sauce and appeared to be slightly breaded.  The breading offsets the low-calorie marinade calories but it wasn't heavily applied.  The chicken was a breast, on the bone, with a liberal amount of seasoning applied.  I tried to cut into the chicken with my fork but it was too tough to do so without a knife.  I couldn't really judge the flavor of the chicken given how tough it was and only ate a few bites. 
Fortunately, the purple hull peas tasted great and so did the corn.  The peas were cooked very well and the corn had a hint of sweetness.  I had a small bite of the large dinner roll, that appeared homemade, and it was fluffy with a sweet flavor to it.  I easily could have eaten the whole roll but I watch my calorie intake during the week and had to pass.
I've been to Homers before and the food was better then so I'm not going to base future visits on this one experience.  The main problem for me is that I don't eat high-calorie food during the week and most choices on their menu don't fit my requirements.  If you want a cheese-burger, fried-fish, or other southern "home cooking," you should give them a try.  They are very popular with their lunch crowd and you can't go wrong with many of their items.
(501) 374-1400
Little Rock
2001 E Roosevelt Rd
Little Rock, AR 72206