By Todd Barron @ FoodieCuisine.com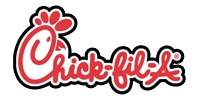 I don't normally eat fast food, much less talk about it here, but I must say that the one fast-food joint I crave is Chick-Fil-A. 
I used to drive 20 minutes to Conway just to go to Chick-Fil-A.  I never liked to deal with the parking at Park Plaza in Little Rock so I avoided going to the one inside.  They then opened one across the street from the mall and I've been going there for the past few years.  It's hard to beat drive through access and when they opened the one on Cantrell (by Fresh Market,) I was overjoyed.
The nice thing about Chick-Fil-A is that the sandwiches aren't full of strange ingredients, nor are they heavy in calories and fat.  One chicken sandwich is worth 9 points in Weight Watchers and that's not too bad given what you are eating (a fried chicken sandwich.)  Each sandwich has 410 calories and 16 grams of fat if you are counting.
My favorite thing to order is the Chicken Sandwich with American Cheese.  I've been ordering it for several years and have always enjoyed it. 
I tried the Spicy Chicken Sandwich and it tastes great as well.  The only thing I don't recommend is the pepper-jack cheese.  It has a strange texture to it and ruined the experience for me.  I think the american cheese adds an acid to it that is much needed.  The Chicken Stripsare also good and I like to order them with the Polynesian sauce.
The chicken is crispy and the batter they coat it in tastes great.  I'm almost always happy with what I order and they rarely let me down.  I didn't used to like the waffle fries very much but recently they either changed them or the one on Cantrell does a better job of seasoning them.  Whatever they did, they taste better now.  Frankly, I think they started added more salt.
They are closed on Sunday so don't bother trying on that day.  Other than that, they have the typical hours of a fast-food place and you can find them all over Central Arkansas now.