By Todd Barron @ FoodieCuisine.com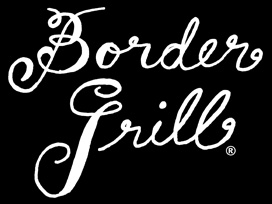 One day at the conference I was attending in LasVegas I only had about an hour, start to finish, to eat lunch. Border Grill is located in Mandalay Bay, where the conference was so I booked a reservation for 1pm for two.  Border Grill is run by chefs Mary Sue Milliken and Susan Feniger of Food Network's "Too Hot Tamales" fame.  Susan Feniger can most recently be found on the Bravo TV's "Top Chef Masters"show.  Although the restaurant is advertised to be owned by the "Too Hot Tamales," the Executive Chef is actually Michael Minor. 
My wife met me there at 1pm and were escorted to a table in the outside area right away. It was nice being outside since the weather in Las Vegas was unusually cool given the time of year I was there (around 80 degrees that day in May!) 
Border Grill is casual and requires little in the way of a specific dress code.  I saw people in business casual but also saw a lot of people in shorts and t-shirts.  The place looked pretty generic in the decorations department but was neither overbearing or spartan.  There is a mix of blacks, oranges, browns, and other colors you would expect in a Mexican style restaurant.  
Although they claim it is Mexican food I found it much more in line with Southwestern food as it resembles little if anything I ever found in my travels to Mexico.  Let me clarify a bit though; they actually call it Modern Mexican Cuisine.  In reality, the modern explanation they give reminds me of what "real" Mexican food is like and not what the American version is.  I rarely found cheese in any of my food while in Mexico for example.  At the end of the day, Border Grill is much better than typical American Mexican food. 
We ordered our drinks and an appetizer of the Queso Fundido ($12).  Their Queso Fundido is advertised as having melted machego, panela, asadero, oaxacan string cheeses, chorizo, and roasted poblano peppers.  It turned out quite tasty and I really liked the mix of textures contained within it.  The chorizo added the right amount of salt to the dish and I'd order it again. 
For our main lunches we ordered the Chicken Special ($Varies), and the Beef Brisket Taquitos ($18).  We only waited about 15 minutes for our food to arrive even though the place was busy.  Did I mention how loud the restaurant is?  Don't expect to carry on an intimate conversation if you eat there.  In one review I read that it can get quite roudy at night when people start drinking the margaritas and I can believe it given our experience during a "normal" time.  
My dish came with three taquitos, which are fried tortillas stuffed with meat.  It also came with a side order of Mexican style rice and black beans topped with queso fresco (fresh crumbled cheese.)  The taquitos themselves were topped with a slaw made of freshly shredded lettuce, chopped tomatoes, chopped onions, thinly sliced green onions, and freshly shredded cheese.  The flavor of the taquitos was excellent and I was very impressed with the quality of the slaw.  I usually don't notice knife-work but the vegetables were cut very uniformly and the green onions were sliced super thin.  Someone in the kitchen was paying attention when they prepped my dish.  The black beans were okay as well as the rice.  The guacamole that came with my food was excellent. 
My wife ordered the chicken special which consisted of a flattened chicken breast served on top of a chipotle sauce.  The chicken was topped with a simple salad, onions, tomatoes, and a melted cheese.  It looked simple but tasted great.  I liked the lightness of the dish compared to the fried food I had.  You could order it without the cheese and have a semi-healthy meal. 
 Our total bill came to less than $70 which is not outrageous given the expense of eating in Las Vegas and I was pleased with the meal.  I was glad I had made reservations for 1pm since it was very crowded; therefore, I suggest you do the same.  I made the reservations only a few hours before hand so it's not like you have to plan far ahead.  I really enjoyed our lunch at Border Grill and was pleasantly suprised.  I'd eat there again given the chance. 
Border Grill
 Mandalay Bay Resort & Casino
3950 Las Vegas Blvd. South, Las Vegas, NV 89119
(702) 632-7403 
Lunch
Everyday – Open at 11:30 a.m.Brunch
Saturday and Sunday – 11:30 a.m. to 3 p.m.
(in addition to the full Lunch menu)
Dinner
Everyday – Beginning at 4 p.m.