by Todd Barron @ FoodieCuisine.com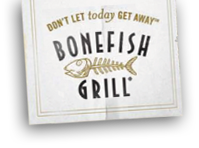 I don't normally review chain restaurants but had the desire for seafood the other night and Bonefish Grillwas the "best" choice given my attire (not fancy dressed) and the time I had to plan (almost zero.)  We thought about going to Cajuns but decided against it.  My wife and I decided on Bonefish and invited a friend to the Cantrell Road location this last weekend for dinner.
We arrived at 6pm and were told we had a 45 minute wait.  We took our buzzer and sat down at a table in the middle of the bar.  We did not order any food although we could have.  In fact, you can eat an entire dinner in the bar but we wanted to sit in a more relaxed area to eat.  Bonefish is "upper" casual in that I wouldn't feel comfortable wearing shorts there but do feel comfortable wearing jeans.  It is decorated nicely and has a huge kitchen.  Their bar is typically packed with people so get there early if you want a seat to sit in while you wait.
About 45 minutes went by and we were given a seat in the middle of the restaurant.  We ordered the appetizer of Bang Bang Shrimp ($7.90) and I ordered the Maryland Crab Cake Dinner ($16.)  We also placed our drink orders and waited.  We waited for quite some time for our waiter to return and he brought a basket of fresh bread on his return.  He mixed some olive oil onto a plate in front of us with herbs and it was wonderful with the bread.  The bread must have been fresh baked or much improved from my last trip because it tasted great.  I was very impressed with it and it along with the olive oil was gone in short order.
We had to flag down our waiter to order a drink for my wife and I didn't get a refill of my iced tea, ever.  The place was busy but the service we received was pretty bad.  The waiter was nice but slow.  We received the appetizer of Bang Bang Shrimp and dug in.  The shrimp was nicely fried and not too greasy.  The sauce on the shrimp had a nice kick to it and a great flavor.  There was just enough of the appetizer for three people with a little left over.  I would definitely order it again.
Our entrees followed up about 30 minutes later (they were running very slow).  My first reaction was "Wow, the economy has really hit Bonefish."  I said this because I used to receive two huge crab-cakes when I ordered the crab cake dinner.  Instead, I had two very tiny mounds of crab with a heap of potato au-gratin on the side.  The crab mounds were about 1 inch in diameter.   I don't know what happened but they used to be huge. 
Regardless of the size, the crab cakes tasted wonderful.  They had a nice buttery texture to them and had great flavor.  They were small but very good.  The potato au gratin had just the right amount of cheese in them and had a great texture as well.  They tasted good and I didn't leave any on my plate.  I do wish there was more crab on the plate and would have been hungry had I not had some of the appetizer first.  I will order it again but I hope they include more next time.
For dessert I had the Macadamia Nut Brownie($5.50) which is a "flourless brownie with raspberry sauce and vanilla ice cream".  The brownie is heated with a melted chocolate sauce poured over the top.  This is one of my favorite desserts and I've been known to go to Bonefish Grill just for the dessert alone.  It's great and something I have ordered in the past and will order again. 
Bonefish Grill
11525 Cantrell Road , Little Rock,AR 72212
Phone: (501) 228-0356
Monday 4 p.m. – 10:30 p.m.
Tuesday 4 p.m. – 10:30 p.m.
Wednesday 4 p.m. – 10:30 p.m.
Thursday 4 p.m. – 10:30 p.m.
Friday 4 p.m. – 11:30 p.m.
Saturday 4 p.m. – 11:30 p.m.
Sunday 4 p.m. – 10 p.m.